Willkommen zur

Bibelschule
Am TAUERNHOF führen wir jährlich zwei englischsprachige Kurzbibelschulen durch: die Herbstbibelschule (12 Wochen) und die Frühlingsbibelschule (8 Wochen).
Diese intensiven Kurse sollen das Wachstum eines Christen fördern, um ihn zum wirksamen christlichen Dienst und Leben auszurüsten.
Es werden verschiedene Bücher der Bibel und ausgewählte Themen durchgenommen, die von Tauernhof-Mitarbeitern sowie Gastsprechern unterrichtet werden. Eine Liste der Gastsprecher findest du hier. Das Schulprogramm umfasst auch spezielle Seminare, Hausaufgaben, Bibelstunden, Andachten sowie die Teilnahme an Gottesdiensten, praktischen Arbeiten und Einsätzen in Schulen, Spitälern, Altersheimen, Kirchen, usw. Diese bieten die Möglichkeit, das Erlernte in die Praxis umzusetzen.
Unsere Studenten kommen aus verschiedenen Nationen, was zu einer lehrreichen Begegnung mit anderen Kulturen und Konfessionen führt. Die relativ kleine Hausgemeinschaft bietet eine familiäre Atmosphäre zum Studieren, sich Kennenlernen, Zusammenarbeiten, und vor allem, dem Herrn Jesus Christus näher zu kommen.
Spring 2020
Bibelschule
DATUM: APRIL 26 – JUNI 20 | 2020
PREISE: € 2.430,00
VERFÜGBARKEIT: Freie Plätze

UPWARD BOUND
Abenteuer Bibelschule
DATUM: JUNI 28 – AUGUST 1 | 2020
PREISE: € 1.996,00

VERFÜGBARKEIT: Freie Plätze
FALL 2020
Bibelschule
DATUM: SEPTEMBER 20 – DEZEMBER 12 | 2020
PREISE: € 3.389,00

VERFÜGBARKEIT: Freie Plätze
Kursinformationen / Course Information
Here is some important information that will help you in preparing to come to Tauernhof. Please read it through carefully. We look forward to having you here!
The objective of this relatively intensive and concentrated course is to provide training for Christians, in order:
1. To facilitate the deepening of relationship with, faith in, and commitment to the Lord Jesus Christ, i.e. to come to personallyexperience the reality of His indwelling life – Christ in you
2. To increase our knowledge of God's Word
3. To provide opportunities for practical application of spiritual and mental learning
4. To promote the development of the Christian as a whole person, i.e. spiritually, mentally and physically
5. To give students the advantages of cross-cultural and multi-cultural Christian exposure, also by providing a community environment which encourages Christian fellowship, maturity, responsibility, participation, and cooperation
To this end, the course consists of teaching by Tauernhof Bible School and Torchbearer's International staff, as well as guest lecturers, on books and subjects including:
in Fall: Old Testament Overview, Gospel of John, Exodus, Romans, Prayer that Works, Hebrews, 1 Corinthians, Colossians, The Person & Work of the Holy Spirit, Personal Evangelism, Missiology & Cultural Theology, Life Issues, Life Stewardship, Proverbs and…
in Spring: 1 John, Life with a Capital L, Ephesians, Spiritual Endurance, Worldview, The Greatest Life on the Planet, Galatians, Malachi, The Life of Elisha, 1 & 2 Timothy, Relationships, Life Stewardship & The Kingdom of God as well as various related topics.
The basic
weekly schedule
consists of
Four lectures and seminar hours daily Monday to Friday. Afternoons are generally set aside for personal study and relaxation. Saturday is free for recreation and optional outings, and day trips and Sunday is set aside for worship, fellowship and relaxation. Since it is a school with a capacity of around 84 students, Tauernhof enjoys a warm and personal atmosphere, in a close community made up of students from various countries and cultures. You will share a room with typically three to five roommates.
Besides classes
there are various
Readings, assignments, seminars, and opportunities for application and interaction in services, devotions, studies, fellowship and prayer times, and also various outreach involvement in the surrounding area. Students will be divided into smaller groups for some of these purposes. A fitness plan is also a vital part of the course. Students are also involved in daily household duties, as well as weekly blocks of practical work, such as cleaning, maintenance and gardening. Also of importance is time for study and sports, both individually and as a group.
"Love the Lord your God with all your heart and with all your soul and with all your mind. This is the first and greatest commandment. And the second is like it: Love your neighbour as yourself."
(Matthew 22:37-39)
It is our desire and prayer to help students and staff alike to love God and our neighbors as Jesus commanded us to. We are from different cultures and backgrounds and that can be exciting and mutually beneficial. In humility we should value others above ourselves, not looking to our own interests but to the interests of others (Philippians 2:4)
We must also remember we are not called to get our standards from the world; we are called to live a life that is "set apart" (Leviticus 18:2-4)
To conduct ourselves in a manner worthy of the gospel of Christ (Philippians 1:27)
To be in the world but not of the world (John 17:15-16, Romans 12:2).
Schladming is a small, traditional Alpine village of 4,500 inhabitants. Your behaviour will be noticed and talked about by locals. More than that, we "live in His sight" (Ephesians 1:4). That is an enormous privilege and responsibility. This is what Community Living in Christ looks like and why…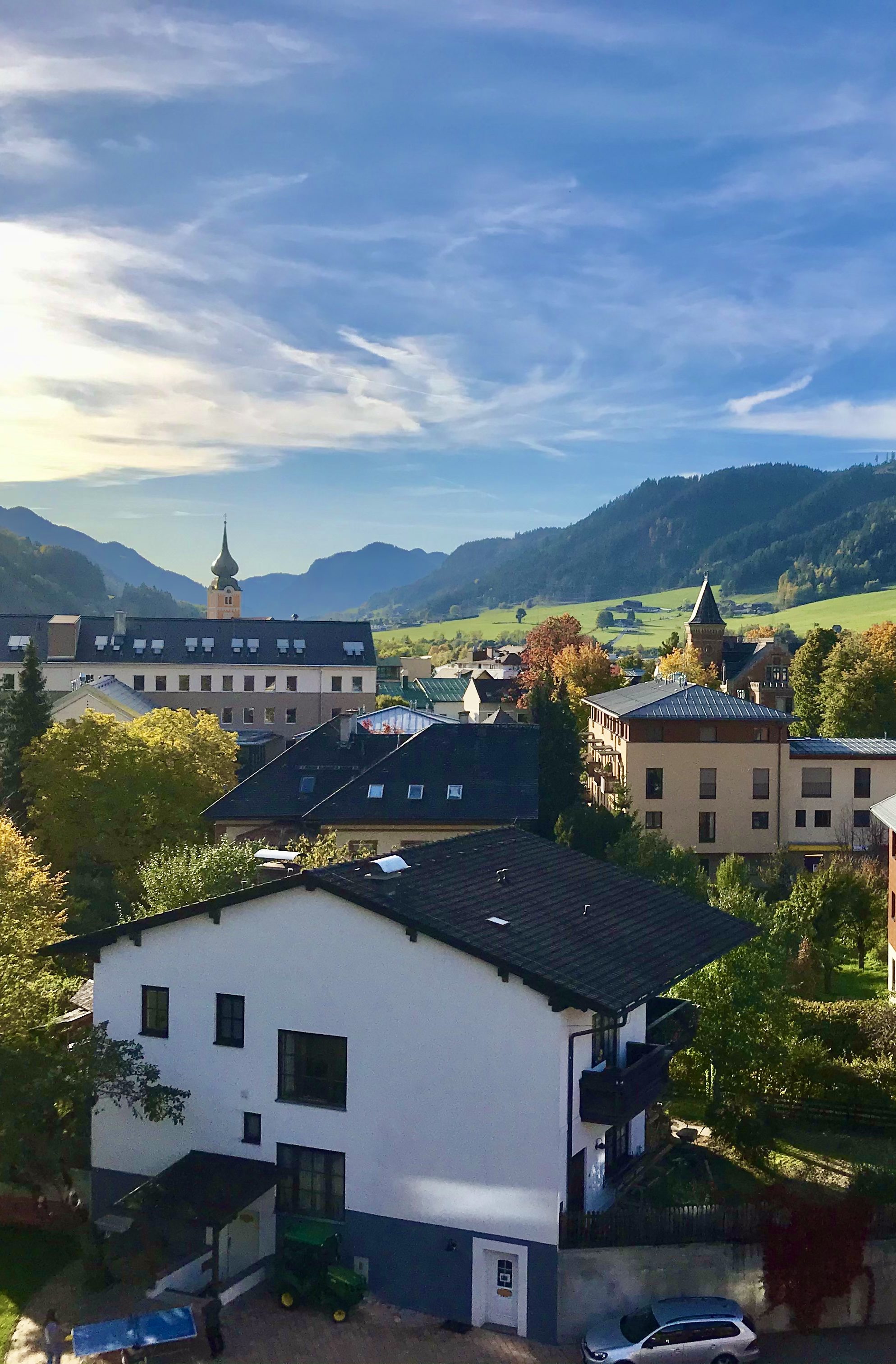 "No temptation has overtaken you except what is common to mankind. And God is faithful; he will not let you be tempted beyond what you can bear. But when you are tempted, he will also provide a way out so that you can endure it." (1 Corinthians 10:13)
If you have any questions, please first refer to the FAQ's page on our website and if that is unable to help you, feel free to contact the Bible School Registrar: registrar@tauernhofaustria.at
We as the staff are praying for you as you prepare to come to Tauernhof. We are anticipating this course to be a very valuable time of challenge and growth in the Lord. Be praying that the Holy Spirit will prepare you for all that God will do in your life, and also for your fellow students, lecturers and staff as we expectantly approach our time together.

We look forward to welcoming you here!
You will also need to have personal spending money to cover additional expenses such as stationary and postage, telephone calls, toiletries, snacks and sightseeing. Remember of course your travel expenses to and from Tauernhof, as well as any additional travel plans you may have. Austria is fairly expensive. You may conveniently obtain cash through numerous local ATM's with the use of a qualifying debit or credit card (PIN number required).
At weekends we offer optional outings such as city tours and hikes, the costs of which are also not included.
"…wear decent and appropriate clothing…Make up your mind not to put any stumbling block or obstacle in the way of a brother or sister." (1 Timothy 2:9b-10; Romans 14:13)
Dress appropriately for Scheduled Activities. For cultural reasons, head coverings are not permitted during these events. Do not go shirtless or barefoot. Casual attire is allowed for Worship and Sunday Services as long as it is clean and smart (i.e.: no torn jeans or sweat pants). Drastic hairstyle changes, body piercing (with the exception of standard ear piercing for ladies) and/or tattoos may not be undertaken during Bible School.
All students are to dress "decently and appropriately" in consideration of the opposite sex. E.g. that means no spaghetti straps and not exposing bra straps or the midriff.
"Whatever you do, work at it with all your heart, as working for the Lord, not for human masters, since you know that you will receive an inheritance from the Lord as a reward. It is the Lord Christ you are serving." (Colossians 3:23-24)
You are to fulfill certain assignments and duties within the required time frames and in accordance with the instructions given to the best of your ability.
Here is your mailing address and telephone number during the course:
Your Name
Tauernhof
Coburgstrasse 50
A-8970 Schladming
Austria
Student Phone: 0043-3687-24190 (dial 011-43-3687-24190 from North America)
Office Phone: 0043-3687-22294 (dial 011-43-3687-22294 from North America)
Phone calls for you can be received only between 7:00am – 8:45am, 12:30pm – 5:15pm, and 9:00pm – 10:30pm Central European Time.
Please note the time difference, for example Austria is 6 hours ahead of Toronto, and 9 hours ahead of Seattle.
"Whatever happens, conduct yourselves in a manner worthy of the gospel of Christ… It is for freedom that Christ has set us free. Stand firm, then, and do not let yourselves be burdened again by a yoke of slavery…Do you not know that your bodies are temples of the Holy Spirit, who is in you, whom you have received from God? You are not your own." (Philippians 1:27; Galatians 5:1; 1 Corinthians 6:19)
We require you to not drink any alcoholic beverages or use tobacco for the duration of Bible School.
The Course Fees include: Tuition, accommodation, meals, tourist tax, a USB stick, weekly gym usage, e-mail access, class picture, a T-shirt, the use of washing machines, tumble dryer, washing powder (one load per week) and various social activities (personal Saturday outings are not included).
There is a room deposit of 50 Euros included in the course fee which will be refunded at the end of the course if you leave your room neat and tidy.
If you have not yet paid your full balance, please do so as soon as possible and in no event later than the first week of Bible School.
There are 2 possible ways to pay:
1. Bank Transfer: Please use the Account Number 17400007708 at Tauernhof's bank "Steiermärkische Sparkasse", A-8970 Schladming, Austria (International Bank Account 'IBAN': AT25 2081 5174 0000 7708, Bank Identifier Code 'BIC': STSPAT2G).
2. Visa/MasterCard: It is possible to pay online by Visa or MasterCard. Please see the payment window that you can access under Payments and ensure that you give details of the course you are attending as the "order number". It is possible to select "English" as the language by clicking on the British flag at the top right.
You must have your own health and accident insurance coverage and you must bring a copy of your current insurance card or similar evidence with you. If you require medical treatment while you are in Austria, then (unless you are a European) you will have to pay when you have the treatment and then make a claim from your insurance provider.
"…Make the most of every opportunity, because the days are evil…Brothers and sisters, whatever is true, whatever is noble, whatever is right, whatever is pure, whatever is lovely, whatever is admirable—if anything is excellent or praiseworthy—think about such things." (Ephesians 5:16; Philippians 4:8)
Movie viewing is only permitted: in the Lecture Hall or Rec. Room; on Friday and Saturday evenings; and if it has first been approved by a Student Mentor ("SM"). In the interests of full participation, media devices will be removed when misused. Do not use your phone during meals. Music may be listened to during free time but since we all have different music tastes, only with headphones. An exception is that music may be played without headphones for workouts, provided the sound level and music choice is considerate to others.
"Love your neighbour as yourself." (Matthew 22:39)
Roofs and neighboring property (e.g. Planai Parking Garage);
Bedrooms and bathrooms of the opposite sex;
The Office (except during the open hours from 1pm to 3pm);
The Kitchen (unless it's your duty);
The Staff Lounge (unless your outreach or family group are meeting there);
The Climbing Tower (unless authorized by a staff member qualified to do so and you have registered at the Reception beforehand).
Do not play ball or other games outside the Reception and please be quiet when you are near neighboring property, especially after 9pm.
"Have confidence in your leaders and submit to their authority, because they keep watch over you as those who must give an account." (Hebrews 13:17)
You must be on time and take part in all lectures, duties, outreaches, family group evenings etc. "Scheduled Activities"), unless exceptional permission has been given by the Principal or Houseparents. You are to attend all meals, although you may sign out for evening meals, provided you do so the day before. In order to complete Bible School, you must stay for the entirety of the course. No overnight stays are allowed unless the Principal has given you exceptional permission.
If your families and friends intend to send you a package during your stay in Europe, they should know and take into consideration the following:
The value of the package should not be higher than 50 US Dollars, as the receiver will need to pay for import tax (customs) otherwise. The custom law has become very strict these past years, and we had many students in the past that got packages from home and because the value was above 50 US Dollars, they needed to pay customs on top of it, even if the content of the package were personal belongings (such as cameras, clothes, sports equipment, etc). Also, it is forbidden to send medicine from overseas to Europe (even vitamins have caused problems in the past!).
In Brief: Care packages from home should be kept small and the value of it should be less than 50 US Dollars.
"Keep on loving one another as brothers and sisters… It is God's will that you should be sanctified: that you should avoid sexual immorality; that each of you should learn to control your own body in a way that is holy and honourable, not in passionate lust like the pagans, who do not know God; and that in this matter no one should wrong or take advantage of a brother or sister." (Hebrews 13:1; 1 Thessalonians 4:3-5)
Romantic attachments that begin at Bible School can be disruptive, divisive and embarrassing and tend to isolate those involved. Students are accepted to attend Bible School to develop a deeper relationship with God. Romantic attachments and physical expressions of affection or other interest (including massages) are therefore not permitted during your time at Bible School. While we wholeheartedly encourage healthy friendships, our definition of a romantic attachment is when a couple separates themselves from the Bible School community and/or is involved in recurring physical contact. As soon as a student recognizes they may struggle (or is informed that they are struggling) to adhere to this requirement, they must speak to the Principal or Houseparents at the earliest opportunity.
"Have nothing to do with the fruitless deeds of darkness, but rather expose them…Be alert and of sober mind. Your enemy the devil prowls around like a roaring lion looking for someone to devour." (Ephesians 5:11; 1 Peter 5:8)
Buildings are locked at 10:45pm (11:30pm on Fridays and Saturdays). You are required to be in your room by the scheduled lock-up time and to keep quiet so that everyone is able to get sufficient rest. There is a wake up time of 7:30am during the week.
Please do not plan to leave Tauernhof before the conclusion of the course.
Please note that it is not possible to stay at Tauernhof before or after the dates of the course. If you arrive earlier in Schladming or wish to stay in Schladming after the course has ended, you must arrange your own lodging at a guesthouse or hotel in town (please contact the tourist information).
You will need to bring the Acceptance Letter issued to you and your passport (make sure it is valid for the duration of your stay).
If you don't stay longer than 90 days in Europe, and have no plans to return to Europe in the next 6 months after leaving Europe, you don't need a Visa. Please note that if you are a non-European national, you may only spend a total of 90 days in Europe without a visa in any given 6 month period.
This does not apply for people from Asia and Africa who will always need a visa for the duration of the time in Europe.
ATTENTION: Due to recent local authority changes it is no longer possible for Tauernhof to assist you in applying for a visa from Austria unless you are attending courses that finish six months after they started. That means you will have to contact the Austrian Foreign Ministry in your home country and apply for a visa there before you travel to Austria!
Please refer to the FAQ's page on our website for further information. Schladming is located about 90 kilometres (55 miles) southeast of Salzburg, in the heart of the Alps of central Austria.
Flying: The nearest airport is Salzburg. From the airport take bus # 2 to the main train station "Hauptbahnhof" (travel time approx. 20 minutes, frequency: every 15 minutes).
Then follow the train directions below. From North America cheaper flights may be available to London, Amsterdam, Frankfurt, Munich or Vienna. From all of these cities there are train connections to Schladming (see Austrian or German Railway Websites).
Train: Schladming is easily accessible by train from anywhere in Europe. From Salzburg "Hauptbahnhof" take any train going towards Graz, Austria. It will stop in Schladming but you may have to switch trains in Bischofshofen which is approx. 30 minutes after Salzburg. There are several train connections from Salzburg to Schladming available each day (see Austrian or German Railway Websites).
Travel time from Salzburg is approx. 1.5 hours, Munich approx. 4 hours, and Vienna approx. 5 hours. When you arrive in Schladming, you can call us (just dial 22294 from the phone booth in front of the station) and we will pick you up if it is the first day of the course. Alternatively, you can walk – approx. 15 minutes: turn left outside the train station, and walk into town. Tauernhof is located by the base station of the Planai ski area gondola "Planai Bahn", right next to the "Charly Kahr" ski and sport shop. Please see the FAQ's page on our website for a map with the directions to Tauernhof marked on it.
If you are making any additional travel plans prior or subsequent to the course, or between if you are attending consecutive courses at more than one European Torchbearers' School, you may want to purchase a Eurail pass before coming, or if you are under 26, you may buy an Inter-Rail pass, available at most European train stations. An International Student Identification Card and an International Youth Hostel Card are also advisable.
Because of limited space, and also for traveling convenience, we suggest that you bring along only what is essential. Here is information to help you know what to bring.
Clothing: Located in the Austrian Alps, Tauernhof experiences a typical temperate and mountain climate, with a fair degree of temperature variation and precipitation.
Therefore you should bring some warm clothing for both indoors and outdoors. Please see www.meoweather.com for historical weather trends. We suggest that you bring easy-care clothes that may be put in a tumble dryer. You can label your clothes for easier identification. Our dress standards require students to maintain a general neatness in appearance. Neat clothing should be worn for lectures, meals, outreaches, and other activities.
For meetings and meals on Sunday students are expected to dress up appropriately (e.g. men could wear a jacket and tie and girls could wear a skirt or dress). Bring along some clothes suitable for practical work, both outdoors and indoors. For the fitness plan and recreation you should also bring running shoes, shorts, and a swim suit and hiking boots if wanted. A bathrobe and slippers are also advisable.
Other: You must have a good English Bible (a translation such as NASB, NIV, NKJV or similar, not a paraphrase) as well as pens for lecture notes and assignments. Tauernhof has concordances, commentaries and Bible dictionaries. We encourage you to bring your personal PC-notebook/laptop for taking notes during lectures and you will be provided with a Tauernhof branded USB stick (the cost of which is included in the student fees). Also be sure to bring towels and toiletries (bedding is provided). Please note that the electrical current in Austria is 220 Volts A.C. Therefore if you intend to bring any electrical appliances, you may need to bring a voltage converter as well as an adaptor plug. We encourage you to bring along any portable musical instrument that you play.